947 fine tunes line up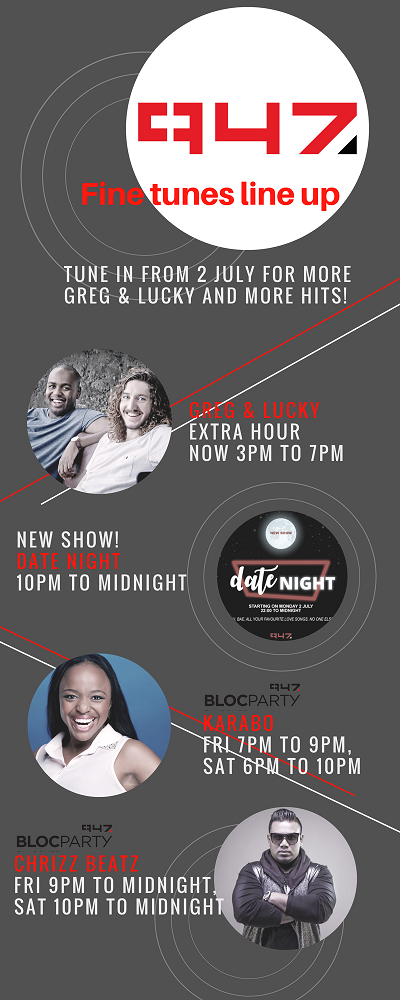 947 listeners will enjoy a fine-tuned version of the current line up from 1 July, with a few nips and tucks including an extra hour of Greg & Lucky on afternoon drive and new additions to the 947 Bloc Party.
Weekdays remain unchanged all the way up to 3pm. However, instead of Beats@Work from 3pm to 4pm, Greg, Lucky and the afternoon drive team will start an hour earlier at 3pm and accompany listeners on their way home until 7pm.
The station is introducing a new, music-driven show called Date Night into the 10pm to midnight slot and late-night listeners can look forward to wall to wall hits with a focus on love songs.
The Bloc Party will also see a shake up and Karabo Ntshweng will kick off the weekend with the Bloc Party on Fridays between 7pm and 10pm, and on Saturday nights from 6pm to 9pm. She will be followed by Chrizz Beatz who will be sharing his epic mixes with 947 audiences until midnight on Fridays and Saturdays.
"We are constantly listening to our target market and what they want, and we think that these are all exciting changes for the station, that will enhance our offering of great music and engaging personalities," said 947 station manager, Ravi Naidoo.
Audiences can tune in to 947 on 94.7 fm, via www.947.co.za or by streaming from the free 947 app.
Full line up from 2 July:
Monday to Thursday:
05h00 to 06h00 – Alex Caige
06h00 to 09h00 – Anele's Breakfast Club
09h00 to 10h00 – Beats@Work
10h00 to 15h00 – Ayanda MVP
15h00 to 19h00 – Greg & Lucky
19h00 to 22h00 – Zweli & Mantsoe
22h00 to 24h00 – Date Night
24h00 to 05h00 – Essential 947
Friday:
05h00 to 06h00 – Alex Caige
06h00 to 09h00 – Anele's Breakfast Club
09h00 to 10h00 – Beats@Work
10h00 to 15h00 – Ayanda MVP
15h00 to 19h00 – Greg & Lucky
19h00 to 22h00 – 947 Bloc Party with Karabo
22h00 to 24h00 – 947 Bloc Party with Chrizz Beatz
Saturday:
07h00 to 10h00 – Weekend Breakfast with Rob Vember
10h00 to 14h00 – Coca-Cola Top40SA with Zweli & Mantsoe
14h00 to 18h00 – Mmasea Petje
18h00 to 21h00 – 947 Bloc Party with Karabo
21h00 to 24h00 – 947 Bloc Party with Chrizz Beatz
Sundays:
07h00 to 10h00 – Weekend Breakfast with Rob Vember
10h00 to 18h00 – 947 Loves Sundays music mix
18h00 to 20h00 – Eunite with Euphonik
20h00 to 24h00 – Lusky