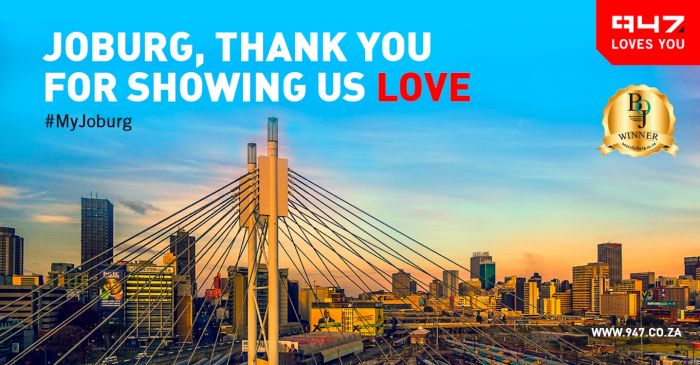 JOHANNESBURG - The City of Gold has changed a lot over the last 20 years, and so has 947. Back in 2009, the station was still known as Highveld Stereo and William Nichol Drive had only one lane instead of six. But there's one thing that hasn't changed in the last two decades: 947 is still Joburg's favourite radio station.
947 has been voted Best Radio Station in Joburg for the 20th time in a row, at the annual Best of Joburg Readers' Choice Awards. It was a clean sweep for the 947 Breakfast Club too, with Anele Mdoda and team being voted Best Breakfast Show in Joburg for the third time running, and Anele herself taking home the Best Radio Personality award for the second year in a row.
The awards celebrate the best of the best in South Africa's biggest and busiest city. Readers get to decide what and who makes living in Joburg so great - and the awards recognise deserving local businesses.
This year, over 100,000 people gave 947 the thumbs-up as Joburg's favourite radio station.
Station Manager Thando Makhunga says it's an honour to get the nod from people who listen to 947 every day: "We've changed so much over the last 20 years years - from Highveld Stereo to 947, from Jeremy Mansfield to Darren Simpson to Anele Mdoda - but our audience has stayed with us, and even grown. They've changed and evolved with us, too, becoming more diverse over time. The fact that we've managed to keep that relationship with our listeners for over two decades speaks to the consistency of our brand in a very competitive media landscape."
That concept of consistency is key to Primedia Broadcasting's winning strategies across its four radio stations: 947, 702, Kfm and CapeTalk. "As Primedia Broadcasting, we always focus on our audience, taking feedback and using insights and data to properly understand our listeners and how best to connect with them," says Makhunga.
"Our clients also tell us that there's a certain level of trust that comes with advertising on 947. The station is such a trusted brand that, by being associated with us, some of that trust is transferred to our clients' brands, too."
To advertise on Joburg's favourite radio station and leverage the trust our listeners have in us, why not send us an email?